Trying out Different Blackjack Variations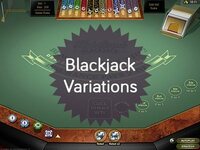 There's definitely no one out there that would deny, that one of the beauties possessed by the game of 21 or Blackjack, is the fact that there's a stunning array of blackjack variations available in order to render more exhilarating experience for wagers. Playing the classic and old version may seem fine at first, however, once you play it regularly, you'll surely end up with the feeling as though you want to try something new. These variations are definitely the answer for such a predicament.
The blackjack variations existing in the industry today may all have the quality of the classic version, but the fine line of difference in rules, style in play and even more, creates a unique experience that will definitely get anyone hooked to the game in general even more. There are Multi-hands, Double-attack, Pontoon, European, Atlantic City, and even more.
The multi-hand game, as the name suggests, allows players to play with up to five different hands, speeding up your pace of gaming and even allowing you to have more chance of winning or losing. The beauty of it lies in the fact that it helps in clearing out waging requirements faster. Also, trust me, playing with multiple hands simultaneously is whole lot more challenging than a single hand play.
The classic version also has a fair amount of difference with the double-attack version of the game. First is the fact that it requires 6-8 decks in play, while all of them won't have any 10 in it. The objective of the game is the same, but with an additional, unique side bet where you'll be able to win when the dealer marvelously get busted with 3 cards.
The European version differs from the American version in terms of some mechanics where players can't surrender while also being restricted from doubling-down and more. The Pontoon on the other hand, is a British variant with 6 decks in play and up to three hands per hand allowed. Its 'twist' function makes it unique to other variants which also contributes to the core essence of the game. Finally, the Atlantic City version is the same as the classic, but allows dealer to pick at his cards.